Corporate Gifts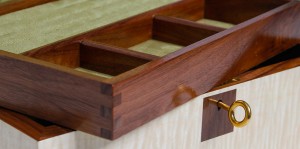 In the business world, the need often arises to find quality, unusual gifts for important trade partners, executives or dignitaries who may have already received a variety of standard corporate gifts such as framed artwork, bottles of wine or gold cufflinks. With a distinctly Irish heritage, the understated elegance of a Lilly Grace Box is a memorable, unique gift that exemplifies a dedication to quality and style. Whether it is to show appreciation for a valued employee upon retirement, reward the acquisition of an important client or act as a special gift for an awards ceremony, each box can be customized to reflect the ethos of the company, as well as including corporate branding through precise laser cut marquetry and other design details. Contact us today to find out more about a bespoke Lilly Grace Box for your company or organization.
Morning Ripple
The stylish contrast between dark and light of the Morning Ripple box sets it apart from other luxury jewellery boxes, with clean lines and a high gloss finish. Constructed from solid American walnut with a rippled sycamore veneer, featuring a deep walnut inlay on the top and surrounding the escutcheon with a solid brass key, lock and hinges. A removable tray with special compartment for rings with a second partitioned tray below allows for easy organization of various valuable items. Finished with a spray lacquer and hand polished to...
Safari Box
The Safari Box features a clean, contemporary design with a unique and eye-catching veneer of Eucalyptus Pommele edged with a complimentary Sapele trim. The finish is hand polished to create a silky sheen that celebrates the natural pattern of the wood. High quality stainless steel hinges and catch blend seamlessly with the overall design. The interior features a royal purple velvet lining with two solid maple pull-out trays, leaving a large storage compartment below. The Safari Box is ideal for storage of precious jewellry, rare coins or other small...