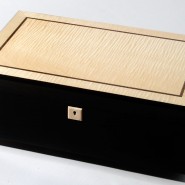 Black & Cream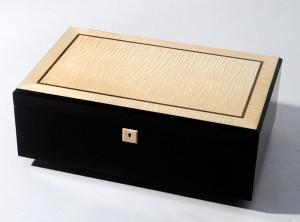 The clean lines and modern aesthetic of the Black & Cream box make it an ideal addition to a household of anyone with a keen eye for design. Hand crafted from solid ebonised walnut, it features a top inlaid with rippled sycamore and ebony. Includes one pull-out tray with buttermilk faux suede lining and solid stainless steel lock, hinges and key. Hand polished to a satin sheen to bring out the unusual texture of the rippled sycamore.
Dimensions:
400mm wide x 250mm deep x 135mm high
Please contact us if you are interested in purchasing the Midnight Keepsake box or commissioning a custom box of your very own.
Click on the photos to view the larger images.