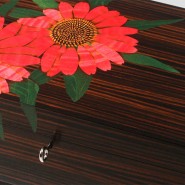 Cornflower Box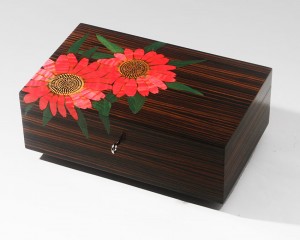 The Cornflower Box is Lilly Grace Boxes' signature piece, our most original creation so far, featuring detailed, colourful marquetry, making it unlike any other heirloom or jewellery box in any private collection. Meticulous detail is used to form the cornflower design using four different kinds of dyed wood, on a box using a rare and exclusive Macassar Ebony veneer with a solid walnut core. The interior is lined in an eye-catching candy pink faux suede with a removable ripple sycamore tray featuring several different compartments, ideal for a range of jewellery or precious items. Hand polished with a satin lacquer, it is truly one-of-a-kind.
Dimensions:
400mm wide x 250mm deep x 135mm high
Please contact us if you are interested in purchasing the Cornflower Box or commissioning a custom box of your very own.
Click on the photos to view the larger images.