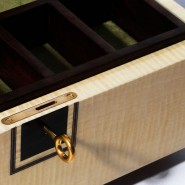 Elegant Ripple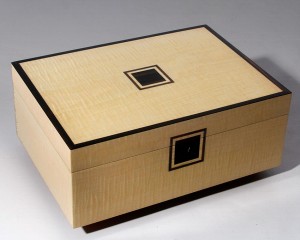 The striking Elegant Ripple box takes its name from the seamless veneer of rippled sycamore covering the solid sapele interior, detailed with a top border of ebony and two inlaid ebony panels. Opening the lid reveals an inset mirror on top and one solid walnut pull-out tray, lined in olive green faux suede. Featuring solid brass lock, hinges and key, the box is hand polished to a high sheen.
Dimensions:
350mm wide x 250mm deep x 135mm high
Please contact us if you are interested in purchasing the Elegant Ripple box or commissioning a custom box of your very own.
Click on the photos to view the larger images.