About Lily Grace Boxes

In the tranquil, rugged setting of the West of Ireland, master craftsman and wood worker Neville O Farrell built his first jewellery box as a special gift for his eldest daughter Grace, on her First Holy Communion. From there, the idea to create a range of elegant, timeless jewellery and bespoke keepsake boxes took root, resulting in pieces which are as individual as the recipient, to be treasured as family heirlooms for generations to come.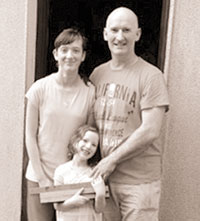 Previously, Neville spent more than twenty years creating custom designed kitchens and handcrafted furniture in New York and New Jersey. Returning with his family back to Ireland a few years ago, Neville specialized in custom cabinetry and complete kitchen installations throughout Counties Mayo, Galway, Sligo and Roscommon with his company O Farrell Finishes. With an interest in diversifying into other markets, Neville began building his first keepsake boxes, experimenting with combining different luxury veneers and solid woods to create stylish, contemporary designs.
Click here to contact Neville with any questions about the boxes or to place a custom order.