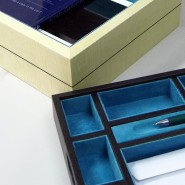 Stationery Box
While writing letters is a bit of a lost art these days, with the luxurious Stationery Box, you might feel inspired to pick up a pen! Made from rippled sycamore with delicate ebony banding and hand polished to a mirror finish, it is an elegant addition to any writing desk. The interior boasts compartments for A4 size paper, DL envelopes, pens and other writing implements, with a lift out tray made from ebonized walnut, all lined in striking turquoise suede.
Dimensions:
400mm wide x 285mm high x 145mm deep
Please contact us if you are interested in purchasing the Stationery Box or commissioning a custom bespoke box of your very own.
Click on the photos to view the larger images.