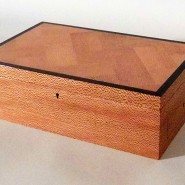 Herringbone Lace
Herringbone Lace features a truly stunning and unique veneer called Lacewood which is joined on the lid in a seamless herringbone pattern, framed by an ebony border. Crafted from solid walnut, it has two cleverly concealed side drawers which can be locked with a solid brass key. The interior is lined in bright contrasting real suede fuchsia for a bright pop of colour when opening the lid.
Dimensions:
400mm wide x 125mm high x 250mm deep
Please contact us if you are interested in purchasing Herringbone Lace or commissioning a custom box of your very own.
Click on the photos to view the larger images.