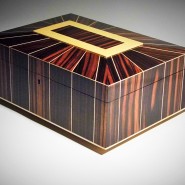 Heritage
Heritage is a uniquely stunning geometric box inspired by the Art Deco movement, a timeless keepsake to last for generations to come. Using a striking combination of ebony and a precise inlay of sycamore stringing, the box creates an optical illusion of dimensionality. The interior features a pull out try with a watch roll and ring inserts, along with several storage compartments, all lined in genuine suede in chocolate brown. With high quality stainless steel hinges, lock and key, the box is hand polished to a high gloss finish.
Dimensions:
350mm wide x 250mm high x 125mm deep
Please contact us if you are interested in purchasing Heritage or commissioning a custom bespoke box of your very own.
Click on the photos to view the larger images.